On Saturday, 13 May, President Serdar Berdimuhamedov received the Special Representative of the President of China, Vice Foreign Minister of China with the rank of Minister Ma Zhaoxu.
According to TDH report, Ma Zhaoxu conveyed to the President of Turkmenistan on behalf of the Chairman of the People's Republic of China Xi Jinping an invitation to participate in the upcoming Summit "Central Asia + China" on 18-19 May 2023.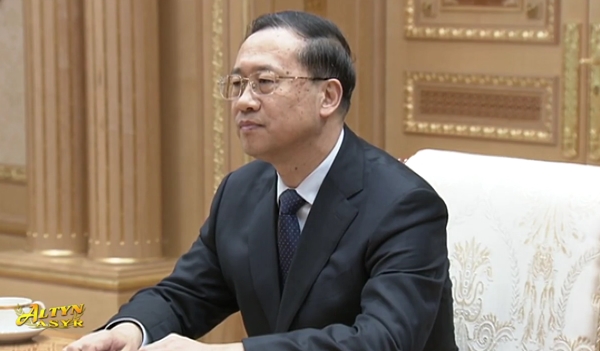 It was noted that the Chinese side is looking forward to the participation of the head of Turkmenistan in this event.
China attaches great importance to the further strengthening of traditionally friendly relations with Turkmenistan, including in the Central Asia-China format, and applauds Turkmenistan's achievements on the path of progressive reforms carried out under President Serdar Berdimuhamedov's leadership, he said.
President Serdar Berdimuhamedov stressed that the steady development and strengthening of relations with China is one of the priorities of Turkmenistan's foreign policy strategy.
Noting that Central Asia traditionally occupies an important place in the Turkmen-Chinese dialogue, the head of Turkmenistan thanked the leadership of the China for the invitation to participate in the Central Asia + China Summit.
During the meeting, the sides exchanged views on the prospects of bilateral cooperation, which has an impressive potential for building mutually beneficial ties, taking into account modern realities and opportunities.
The successful implementation of the agreements reached at the highest level also contributes to the enhancing and diversification of the bilateral partnership. In this regard, the importance of the talks held in Beijing in January this year between President of Turkmenistan Serdar Berdimuhamedov and President of China Xi Jinping was noted, which became an important step towards the development of a strategic partnership based on equality, awareness of mutual advantages and a large-scale vision of the opening prospects and opportunities.
Today, Turkmenistan and China are actively cooperating in the international arena, systematically supporting each other within the framework of the UN and other reputable international organizations in promoting particularly significant initiatives and proposals.
Turkmenistan and China cooperate productively in such priority areas as the trade and economic sphere, the fuel and energy complex and a number of other industries.
At the end of the meeting, the parties expressed confidence that fruitful interstate relations that have passed the test of time will continue to develop dynamically for the common good, being filled with new concrete content. ///nCa, 14 May 2023