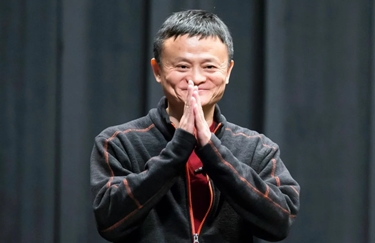 He is the son of a security guard.
At the age of 12, he saved enough of his pocket money to buy a cheap pocket radio and listened for long hours to the English radio stations. That is how he learned the English language.
In 1976, his net worth was an old bicycle which he rode 27 kilometers every day to offer tours to the tourists in Hangzhou and practice English with them. He did this for nine years.
At the start of 2023, his net worth was USD 34.1 billion, making him one of the richest people in the world.
This is Ma Yun, better known as Jack Ma.
He took college entrance exam year after year and succeeded in the third attempt. Mathematics was his weak area.
He applied to KFC for an entry-level job. There were 24 candidates and 23 of them got the job. Only one was rejected – Jack Ma.
He applied for and got rejected from 30 jobs.
There was a long journey up to and beyond Alibaba.
Today, his Jack Ma Foundation has spent billions of dollars in aid and assistance in China, Africa, Australia, and the Middle East.
This is the man whose life and successes provide a ready-to-use template for the youth in Central Asia.
* * *
To appraise Jack Ma, we should turn to the man whose job it is to appraise – David Blair, the Global CEO of Fitch.
In an article published on 12 September 2019 in the Management Today and later carried by Fitch, Blair has succinctly narrated the secrets of the success of Jack Ma.
We are producing the article here in full because any attempt to summarize it will take the zing out of it:
Why has Alibaba's Jack Ma been so successful?
British retail bosses can learn a lot from China's outgoing retail titan…
David Blair, Global CEO, FITCH
That Jack Ma has profoundly altered the face of business, both in China and here in the West, is not news. Many business leaders have scrambled to watch and learn as the project he started in a shared apartment in 1999 transformed into an organisation that has successfully infiltrated the entire Chinese shopping experience and continues to drive record profits.
And his record is not only rooted in his business success: he is famed for his flamboyance. His biographer Duncan Clark has put his success down to his charisma, as well as his strategic vision.
As he steps down from the company, there are many questions over the next stage for Alibaba. But first, there are crucial lessons to be learned from the man born to a poor family in Hangzhou, who can now use his £31billion fortune for his philanthropic efforts and future business ventures.
Customer-first innovation
Jack Ma, on finding no Chinese beers in his first online search for "beer", saw an opportunity for a company that filled that space by providing an online marketplace. Alibaba was born — a key innovation that filled a gap for consumers. This can be taken as Ma's template for future success with the company.
His reign over Alibaba has seen some amazing innovations through its pursuit of "new retail" — or the 'blending of digital into real-world shopping experiences with the goal of creating the best of both worlds'. Its system of online platforms have enabled the provision of fantastic retail experiences that many struggling high street brands in the UK desperately want to emulate. These range from in-App browsing and payments that empower physical shopping, to Alipay — the brand's popular payments platform — to automation and machine learning enabling it to understand the customer and move into spaces such as hospitality.
Look at Alibaba's Singles Day, now synonymous with the Alibaba brand. An obscure anti-Valentines day begun by students in China, Alibaba co-opted the day in 2009 and over less than a decade has launched it into a glittering celebration, in which people across China buy themselves gifts — whether single or not. Last year, $30.8 billion in sales were made. This kind of scale has only been achieved because Alibaba used data to inform how to provide exceptional, customer first experiences.
Alibaba's mastery of this ecosystem is what sets it apart: data-driven decisions around what customers want from a business, and in a way that customers love. Ming Zeng, now Chief Strategy Officer at Alibaba Group, put it this way: "Alibaba does what Amazon, eBay, PayPal, Google, FedEx, wholesalers, and a good portion of manufacturers do in the United States, with a healthy helping of financial services for garnish."
Fostering talent
Ma, originally a teacher, has always valued his younger talent pipeline: he has explicitly left the business in order to enable the next generation to create what's next, declaring: "I'm the person always looking forward". He has also repeatedly advocated for gender parity in leadership, arguing that women in senior positions are essential to a healthy business. Unlike many of its big tech counterparts in the West, nearly half of Alibaba's senior management team are women.
However, his legacy in terms of talent is somewhat diminished by his support of the '996' working model: employees work 9am-9pm, six days a week. He has gone so far as to call the 12 hour day a 'blessing'. It's common practice in China, and has been called the 'hustle' that sets Chinese tech companies apart from Silicon Valley giants — but this does call into question employees' well being.
Research indicates when working weeks go over 40 to 50 hours, employees' total output over an extended period of time will drop below the level it had been in shorter working weeks. I'll wager that if his successor, Daniel Zhang, reduces the working hours expected of employees, Alibaba's overall output and productivity could improve even further.
Legacy
There are clear takeaways for business leaders from the career of Jack Ma — even for those less willing to dance onstage to Billie Jean. A mindset that utilises data to understand what customers need, implemented in a cross-channel approach to ensure a brand can provide an all-round customer-first retail experience, is essential for the customers of today.
As Ma himself said: "The world is big, and I am still young, so I want to try new things." So do customers.
https://fitchdesign.medium.com/why-has-alibabas-jack-ma-been-so-successful-fe78a53ce7e6
* * *
A story by Catherine Clifford for CNBC, published on 4 June 2019, sheds more light on the Jack Ma phenomenon.
It is titled: Alibaba billionaire Jack Ma: Almost 'everybody can be successful if you really try hard'
Clifford's story is based on the speech of Jack Ma at the Viva Tech conference in Paris in May 2019 and some other conversations.
Here is the major portion of her story:
"I think everybody can be successful if you really try hard," Ma said at the Viva Tech conference in Paris in May.
He thinks that because he lived it. Ma started Alibaba in his apartment in 1999 with no money and a small team that used their underdog status as motivation.
″[O]ne of the things we wanted to prove: If Jack Ma and his team can be successful, 80% of the people in the world, they can be successful…."
Here are three of Ma's keys to success in business that don't require any special knowledge, money or connections.
Thinking differently is your power
"If everybody agrees, then there is no opportunity," Ma said in Paris.
"If people criticize you, you have to think. And I spent most of my time thinking about the future, I spend a most of time listen to the complaints. Because people like me, we don't have money, we don't have technology, we don't have strong relationship, the only thing we compete with the others is that how we see the future."
Seeing a future others couldn't gave Ma a competitive edge when he started Alibaba. When he was first introduced to the internet during a trip to Seattle in 1995, he searched the term "China." There was "no data about China," Ma told Charlie Rose in 2015.
"So I talked to my friend: Why not I make something about China? So we made a small very ugly looking page called China," Ma told Rose. It was the genesis for setting up Alibaba, which started as an "e-marketplace for information," Ma said.
"If I believe the future like this way and those people that way, of course, we are different. And when we believe that is the future, we start to do it."
When everybody else believe it you have no chance. When only few people believe it, you believe it, you prove it, that's your chance," Ma said in Paris.
Be like Forrest Gump: Never give up
Ma was rejected a lot in his life.
"I failed at key primary school test two times and I failed like three times for the middle schools," Ma told Rose. "I applied for Harvard — 10 times rejected," Ma told Rose. But eventually, Ma attended and graduated from the Hangzhou Teacher's Institute with a major in English language education.
Ma was also rejected for a job at Kentucky Fried Chicken (24 people applied and all but Ma got the job), as a cop and for a gig as a waiter at a four star hotel in Hangzhou (his cousin got the job).
Even after launching Alibaba, he faced rejection. In 2001, Ma tried to raise $5 million in venture capitalist funding from investors in the United States and was rejected. But Ma persisted, and in 2005 Yahoo bought a majority stake in Alibaba. In 2014, Alibaba issued a record-breaking $25 billion IPO.
The key, Ma says, is to not let rejection keep you down for long.
"Of course, you are not happy when people say 'no.' Have a good sleep, wake up, try it again," Ma said in Paris.
Ma told Charlie Rose he's inspired by Forrest Gump in that respect: "I love Forrest Gump," Ma said. "Simple — never give up."
Use what skills you have
"I know nothing about technology, I know nothing about marketing, I know nothing about [the legal] stuff," Ma said in Paris. "I only know about people."
Spend time on your customers, on your people, on your teams. Don't spend time on your competitors or investors.
So Ma used that. He had learned how to inspire and empower people in his first job, when he was an English teacher, and he translated that into inspiring and encouraging his team.
Of particular note, Ma focused his energy on the people he was serving and who were building his company, the foundation of his business. He did not get overly concerned with keeping investors happy, noting that investors can be fickle — "when you in trouble, they run so fast."
"Spending time on your customers. Spend time on your people, on your own team," Ma said. "Don't spend time on your investors. Don't spend time on your competitors. When you look at the people, you want to serve. When you look at the people you work together, if they are happy, you will win. That's the very simple."
https://www.cnbc.com/2019/06/04/alibabas-jack-ma-almost-everyone-can-be-successful.html
* * *
///nCa, 3 February 2023
To be continued . . .