At the end of the Consultative Meeting of the heads of Central Asian states in Dushanbe, a solemn ceremony was held to award the National Leader of the Turkmen people, Chairman of the Halk Maslahaty of Turkmenistan Gurbanguly Berdimuhamedov with the Badge of Honor of the heads of Central Asian states.
He is in Dushanbe on a working visit at the invitation of the Tajikistan leader Emomali Rahmon.
The ceremony was attended by the heads of state of Central Asia and Azerbaijan.
Arkadag Berdimuhamedov was awarded the "Badge of Honor" for his outstanding contribution to strengthening friendship and good neighborly relations between the Central Asian states, deepening mutually beneficial cooperation between the countries of the region in the political, trade, economic, cultural and humanitarian spheres, promoting joint interests and initiatives of the countries of the region in the international community, as well as long-term personal efforts aimed at creation and progressive development.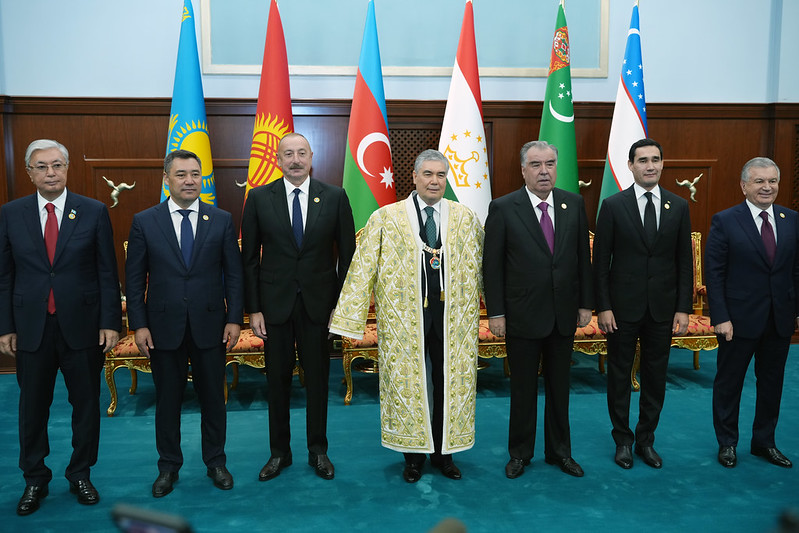 Gurbanguly Berdimuhamedov expressed sincere gratitude for presenting him with this high award within the framework of international events held in the capital of Tajikistan.
He noted that he regards this honorary award as a symbol of deep respect for the Turkmen people, recognition of Turkmenistan's contribution to strengthening good-neighborly, fraternal relations between the Central Asian states, support for the country's policy of neutrality aimed at ensuring peace and security in the region. ///nCa, 15 September 2023
#Central_Asia, #Arkadag, #Turkmenistan, #Tajikistan, #Kyrgyzstan, #Kazakhstan, #Uzbekistan, #Badge_of_Honor,