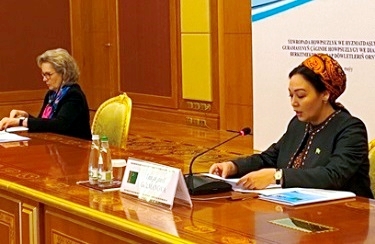 Alexander Volgarev, Deputy Permanent Representative of the Russian Federation to the OSCE
Russia highly appreciates the neutral status of Turkmenistan and the country's policy based on it.
The readiness to defend the foreign policy course through the prism of the interests of one's state without prejudice to relations with other states requires courage and strategic multidimensionality today. A vivid example of success is the policy of Turkmenistan, which proclaimed the status of permanent neutrality almost 30 years ago, enshrined in a special resolution of the UN General Assembly adopted on December 12, 1995 year, and at the same time striving for the development of peaceful, friendly and mutually beneficial relations with all countries. Ashgabat stood, without exaggeration, at the origins of the definition of modern neutrality at the turn of the century.<…> Russia highly appreciates this approach, respects political traditions and cultural civilizational diversity of its partners as important elements in the formation of a more just multipolar world.
The concept of neutrality "in Turkmen style" is more adapted to the realities of the 21st century.
Because the Western model of neutrality, Western European, such as Finnish, Swedish, Austrian, Swiss, did not stand the test of modern geopolitical realities and, in fact, failed. Now you can't talk about any neutrality when Sweden and Finland join NATO, The Austrians, of course, as members of the EU, joined all the sanctions of the European Union, the Swiss joined all the EU sanctions and went even further – they encroached on the sacred, on the Swiss banking system.
At the same time, the model of Turkmenistan's neutrality is now being tested for strength.
Turkmenistan stood at the origins of the definition of modern neutrality at the turn of the century. The Turkmen model is based primarily on observing the interests of the Turkmen people: not to be friends against someone, not to create alliances against someone, but to be friends with everyone in the interests, first of all, of their own people, the country, the interests of its economic development, the interests of human development, so that everyone would be pleased to deal with this country.
[This is the reconstruction of the remarks of Alexander Volgarev at the conference "The role of neutral states in strengthening security, stability and dialogue in the OSCE Area," organized jointly by Turkmenistan and OSCE PA on 16 May 2023 in Ashgabat. This reconstruction is based on a TASS report.]