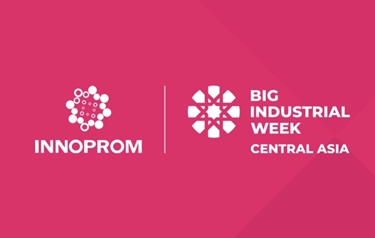 Three-day International Industrial Exhibition "INNOPROM. Central Asia" started in Tashkent, Uzbekistan on 24 April 2023.
The exhibition is attended by more than 5,000 delegates, as well as over 300 foreign companies, business representatives and government agencies of the CIS countries, France, Italy, the Netherlands, India, Singapore, China, Japan, Armenia, Kazakhstan, Turkey and Turkmenistan.
According to the organizers, the current INNOPROM-2023 is featured from the events of previous years in the intensity of direct business contacts.
Over the years, the expo has proven its effectiveness, because at the exhibition site, the leaders of major market players have the opportunity to get to know each other personally, discuss the potential and mull over the prospects for partnership.
The key tasks of Innoprom-2023 are promoting the advanced technologies and developments in the field of industry, establishing contacts between industrial enterprises of Uzbekistan and other countries. A solid package of investment agreements and trade contracts is expected to be signed this year.
One of the plenary sessions on the sidelines of the expo, to be held on 25 April, will be devoted to international industrial projects in Central Asia and their competitive advantages amid the new challenges. The main INNOPROM session will bring together the government leaders of Uzbekistan, Russia, and other countries of the region, as well as the leaders of business associations and industrial companies. Business and government representatives will present their actual thoughts on international cooperation and new promising projects in Central Asia.
Specialized sessions and round tables within the framework of the Innoprom 2023 business program will allow experts to exchange views on such topics as international technological partnerships in the fuel and energy sector, the introduction of innovations to improve the efficiency of the fuel and energy sector, industrial zones and technoparks, current challenges of international cooperation in metallurgy and mining, innovations in industry.
For the first time, the International Industrial Exhibition "INNOPROM. Central Asia" was organized in Tashkent in 2021 and in two years has proven itself as an effective platform for the development of interregional cooperation and industrial cooperation. Over the years, more than 30 major business events and over 500 business meetings have been held on the sidelines of the large-scale expo, resulted in signing 600 agreements worth over US $ 7 billion. ///nCa, 24 April 2023
Some photos from the official website of "Innoprom. Central Asia":