nCa Report
It is truly global in nature and scope, this BRI of China. Never before has the world seen so comprehensive and so inclusive drive to spread the benefits around the globe.
Launched in 2013, the BRI (Belt and Road Initiative) of China has made unbelievable progress in little more than five years.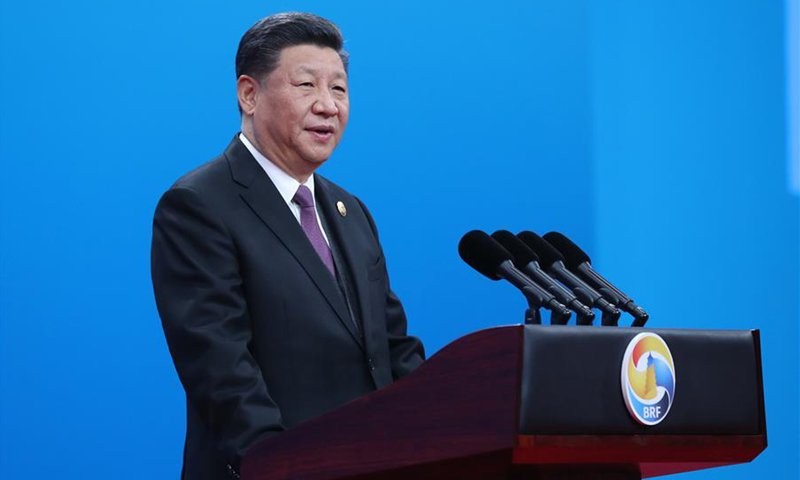 Here are the highlights of progress made from 2013 and 2018:
The goods trade volume between China and the countries and regions along the BRI surpassed USD 6 trillion between 2013 and 2018

During this period China signed 173 cooperation documents with 125 countries and 29 international organizations

The China-Europe freight trains, connecting China with 50 cities in 15 European countries made more than 14,000 trips

China signed currency swap agreements with 20 countries along the Belt and Road and formed RMB clearing arrangements with seven countries
This is in addition to vast array of ports, roads, corridors, and other infrastructure objects put into operation.
The Second Belt and Road Forum for International Cooperation held in Beijing, 25-27 April 2019, has added significantly to the BRI achievements.
* * *
Here are some infographics, summarizing the outcomes of the second B&R forum: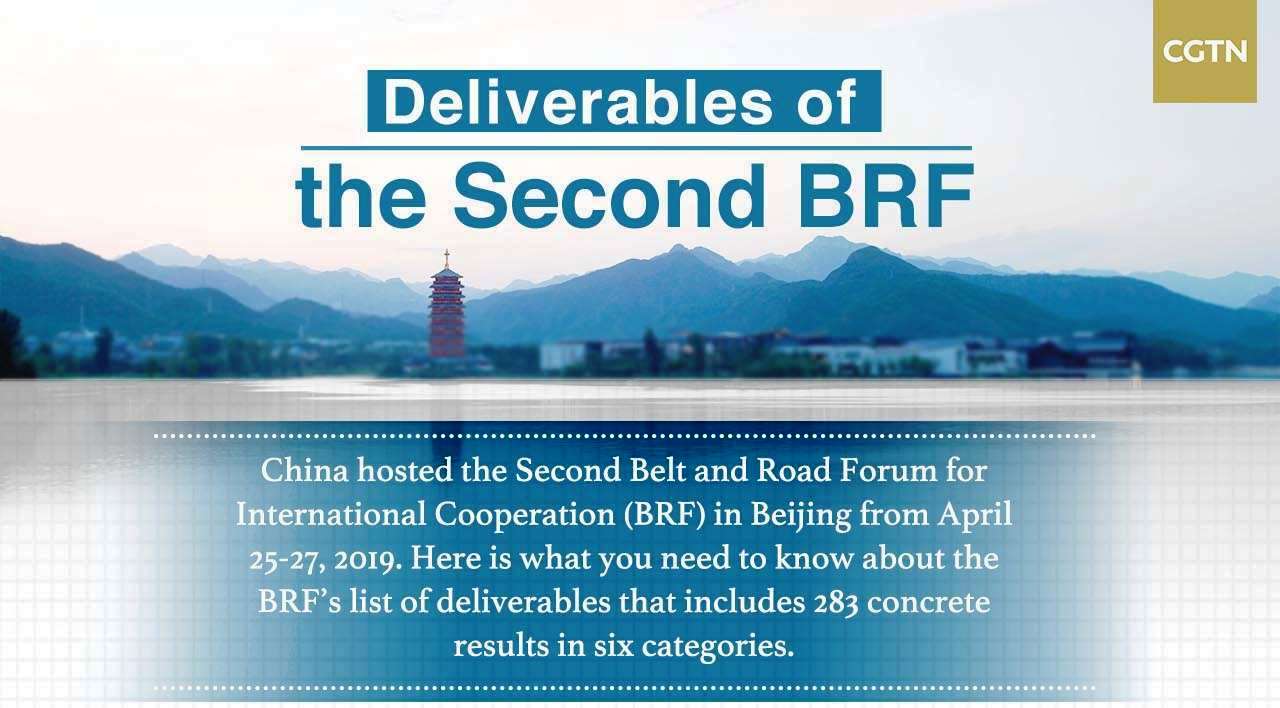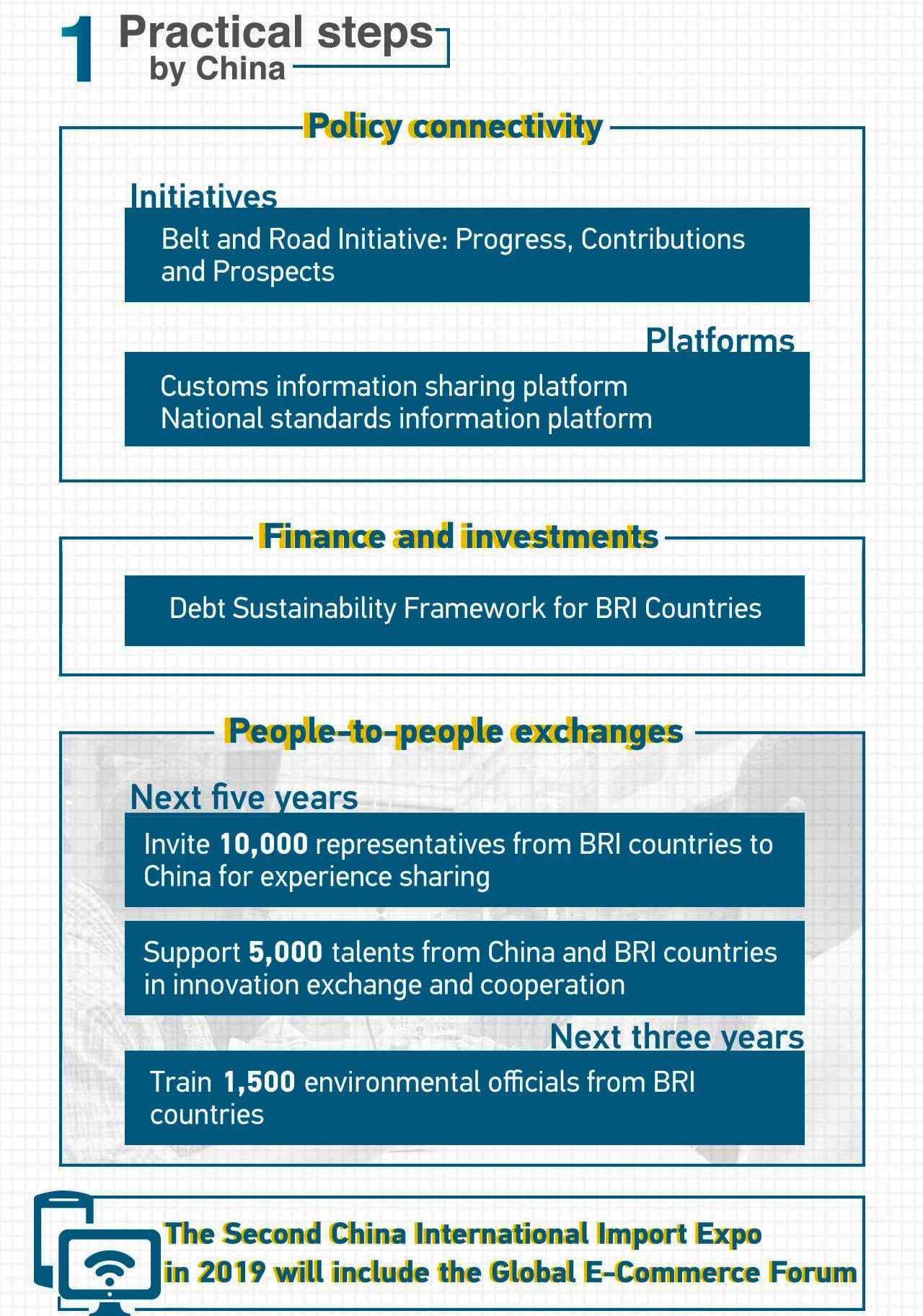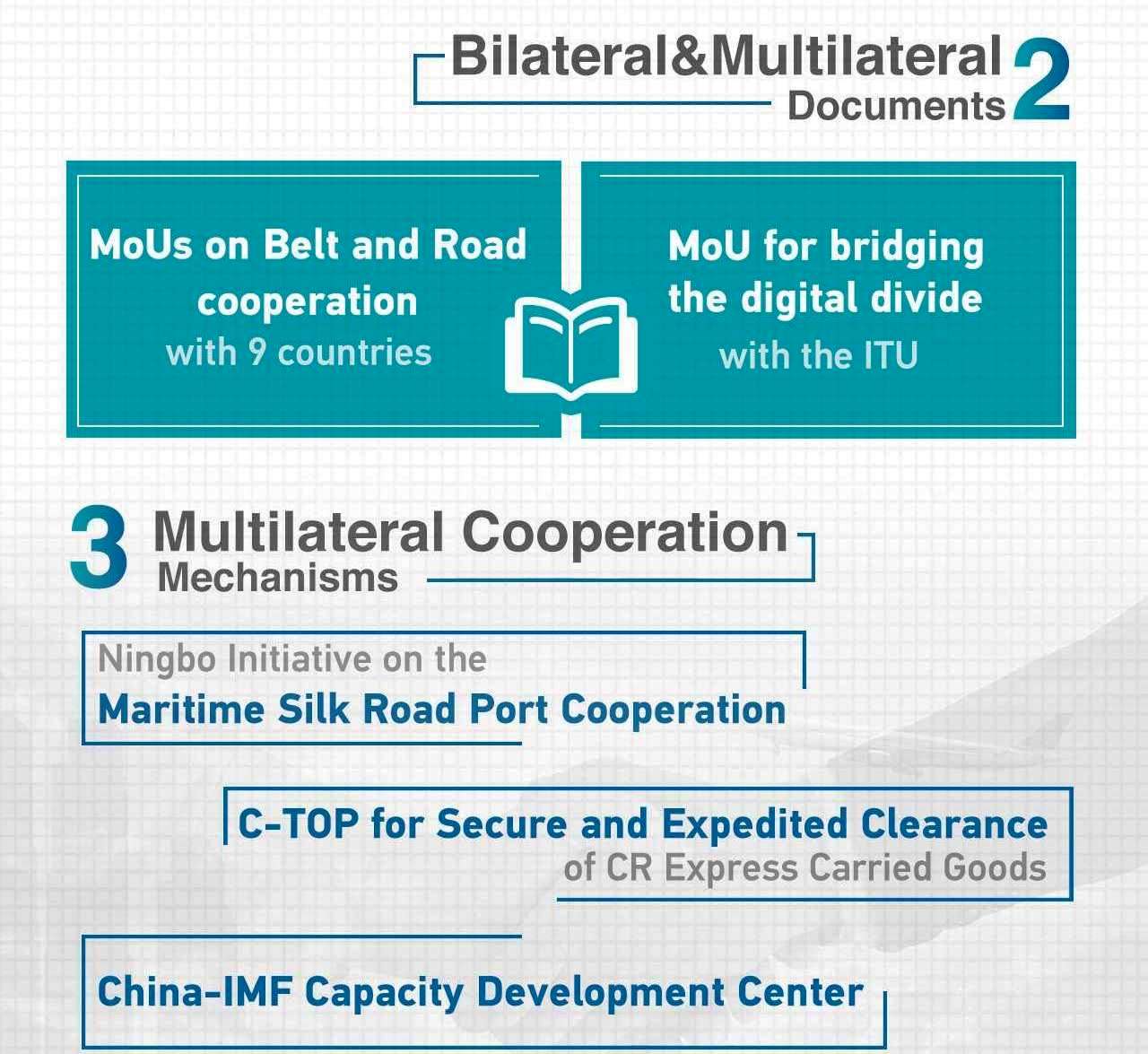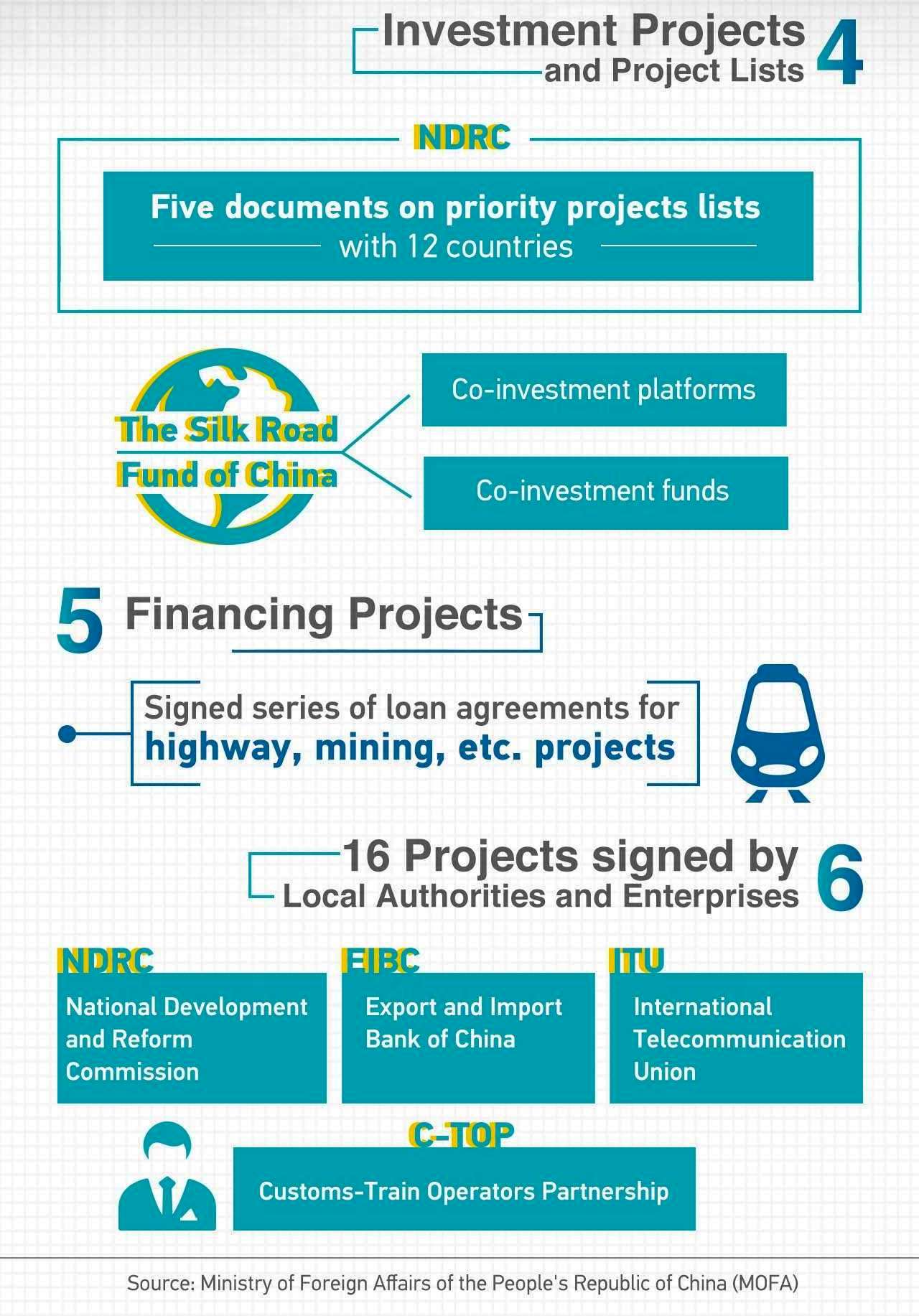 In all, the outcomes of the forum included 283 deliverables. Complete list can be found here:
http://www.beltandroadforum.org/english/n100/2019/0427/c36-1312.html
* * *
The Joint Communiqué of the Leaders' Roundtable of the 2nd Belt and Road Forum for International Cooperation is the core document of the forum.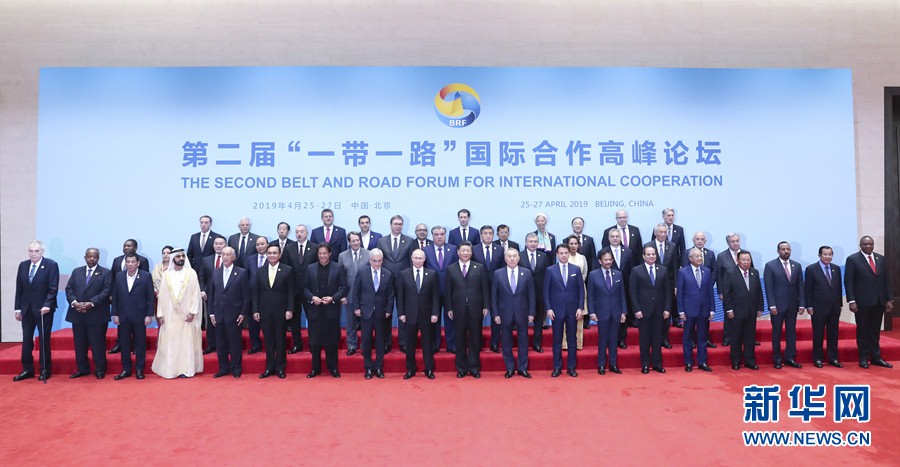 Covering all areas of the BRI, the communiqué has some points that are of immediate relevance for this region:
Under subheading 'Strengthening Development Policy Synergy'
10. Determined to pursue trade and investment liberalization and facilitation, we aspire to further open our markets, reject protectionism, unilateralism and other measures that are incompatible with WTO rules. We highlight the importance of special and differential treatment in accordance with WTO agreements.
14.We endeavor to forge inclusive and diversified global value chains, beneficial to all partners. We encourage greater cooperation on innovation, while protecting intellectual property rights. We also encourage the introduction of digital transport accompanying documents.
15. We support the development of sustainable blue economy and call for further developing maritime links and intensifying international maritime cooperation, including among ports and shipping industries, while sustainably managing marine and coastal ecosystems.
Under subheading 'Boosting Infrastructure Connectivity'
17. We will strive to build high-quality, reliable, resilient and sustainable infrastructure. We emphasize that high-quality infrastructure should be viable, affordable, accessible, inclusive and broadly beneficial over its entire life-cycle, contributing to sustainable development of participating countries and the industrialization of developing countries. We welcome developed countries and international investors to invest in connectivity projects in the developing countries. We emphasize the importance of economic, social, fiscal, financial and environmental sustainability of projects, while striking a good balance among economic growth, social progress and environmental protection
19. We acknowledge that transport infrastructure constitutes a foundation of connectivity. We encourage the development of interoperability of infrastructure to enhance air, land and sea connectivity among countries, including through interoperable and multi-modal transport. We recognize the importance of development of trans-regional transport and logistic routes including the ones connecting Central Asia with Caucasus, Europe, Africa, South and Southeast Asia and the Pacific region to increase its transport and communication potential.
20. We support strengthening energy infrastructure, in order to enhance energy security and to promote global access to affordable, clean, renewable and sustainable energy for all.
Under subheading 'Strengthening Practical Cooperation'
27. We support continued efforts to build on the progress already made in developing economic corridors and economic and trade cooperation zones as annexed as well as other cooperation projects across all areas related to the Belt and Road Initiative, and further cooperation on value chains, industry chains and supply chains.
28. We will continue our efforts towards strengthening multi-modal transportation including inland waterways in landlocked countries, roads, railway networks, air, land and sea ports and pipelines in line with international law and respective domestic laws. We encourage digital infrastructure including transnational fiber-optic highways, promoting e-commerce and smart cities, and helping narrow the digital divide while drawing on international good practices.
31. We stress the importance of the development of water-saving technologies and agricultural innovations as an important component providing food security and supporting sustainable development. We stress the importance of cooperation on veterinary-sanitary and phytosanitary matters for agricultural products in order to facilitate trade and investment.
* * *
A cursory look at the annex to the communiqué can spotlight the enormity of BRI:
Economic corridors and other projects catalyzed and supported by connectivity:
(1) Addis Ababa-Djibouti economic corridor, including the development of industrial parks along the economic corridor
(2) Agua Negra Pass International Tunnel
(3) Baku-Tbilisi-Kars new railway line and Alyat free economic zone in Baku
(4) Brunei-Guangxi economic corridor
(5) China-Central Asia-West Asia economic corridor
(6) China-Europe Land-Sea Express Line
(7) China-Indochina Peninsula economic corridor, including Laos-China economic corridor
(8) China-Kyrgyzstan-Uzbekistan International Highway
(9) China-Laos-Thailand Railway Cooperation
(10) China-Malaysia Qinzhou Industrial Park
(11) China-Mongolia-Russia economic corridor
(12) China-Myanmar economic corridor
(13) China-Pakistan economic corridor
(14) Eastern Economic Corridor in Thailand
(15) Economic corridor in Greater Mekong Subregion
(16) the EU Trans-European Transport Networks
(17) Europe-Caucasus-Asia International Transport corridor and TransCaspian International Transport Route
(18) the Industrial Park "Great Stone"
(19) International North-South Transport Corridor (INSTC)
(20) the Lake Victoria-Mediterranean Sea Navigation Line-Linkage Project (VICMED)
(21) the Lamu Port-South Sudan-Ethiopia Transport corridor
(22) Malaysia-China Kuantan Industrial Park
(23) the Nepal-China Trans-Himalayan Multi-dimensional Connectivity Network, including Nepal-China cross-border railway
(24) New Eurasian Land Bridge
(25) the New International Land-Sea Trade Corridor of the China- Singapore (Chongqing) Demonstration Initiative on Strategic Connectivity
(26) Northern Corridor Trade Route in Africa linking the maritime port of Mombasa to countries of the Great Lakes region of Africa and Trans-Africa Highway
(27) North-South Passage Cairo-Capetown Pass-way
(28) the Port of Piraeus
(29) Port Sudan-Ethiopia Railway Connectivity
(30) Regional Comprehensive economic corridors in Indonesia
(31) the Suez Canal Economic Zone
(32) Transcontinental shipment of cargo using the capacities of the Northern Sea Route
(33) Transoceanic fiber optic cable
(34) "Two Corridors and One Belt" Framework
(35) Uzbekistan-Tajikistan-China International Highway
Sectoral multilateral cooperation initiatives and platforms:
(1) the Advisory Council of the Belt and Road Forum for International Cooperation
(2) the Alliance of International Science Organizations in the Belt and Road Region
(3) Beijing Initiative for the Clean Silk Road
(4) Belt and Road Energy Partnership
(5) Belt and Road Initiative Tax Administration Cooperation Mechanism
(6) Belt and Road News Alliance
(7) Belt and Road Studies Network
(8) Digital Silk Road Initiative
(9) Guiding Principles on Financing the Development of the Belt and Road
(10) the International Academy of Science of the Silk Road
(11) International Coalition for Green Development on the Belt and Road
(12) Joint Statement on Pragmatic Cooperation in the Field of Intellectual Property Among Countries Along the Belt and Roa
(13) Joint Working Group on China Railway Express to Europe
(14) Ningbo Initiative on the Maritime Silk Road Port Cooperation
Other relevant efforts referred to by participants:
(1) African Continental Free Trade Agreement (ACFTA)
(2) Ancient Civilizations Forum initiated by Greece
(3) APEC Economic Leaders' Meeting in 2019 in Chile
(4) Belt and Road Forum for international cooperation in Belarus
(5) Belt and Road lane for fast-track entry and exit at the land and air ports set up by Mongolia and interested countries
(6) the First Forum of Mayors of Silk Road Countries held in Kazakhstan in 2018
(7) the Global Silk Road Award initiated by Kazakhstan
(8) the initiative by Mongolia to establish an award that encourages young scholars and diplomats to promote the Belt and Road cooperation
(9) Pan-Arab Free Trade Agreement (PAFTA)
(10) the Santiago Climate Change Conference on its 25th Session of the Conference of the Parties (COP25) to the UNFCCC in 2019 in Chile
(11) Sustainable Blue Economy Conference in Kenya in 2018
(12) the United Nations Convention on International Settlement Agreements Resulting from Mediation
(13) the UNWTO International Meeting on the Silk Road Tourism in Greece in 2018
(14) the World Forum on inter-cultural dialogue within the framework of Baku Process
(15) the World Youth Forum held in Egypt in 2018
* * *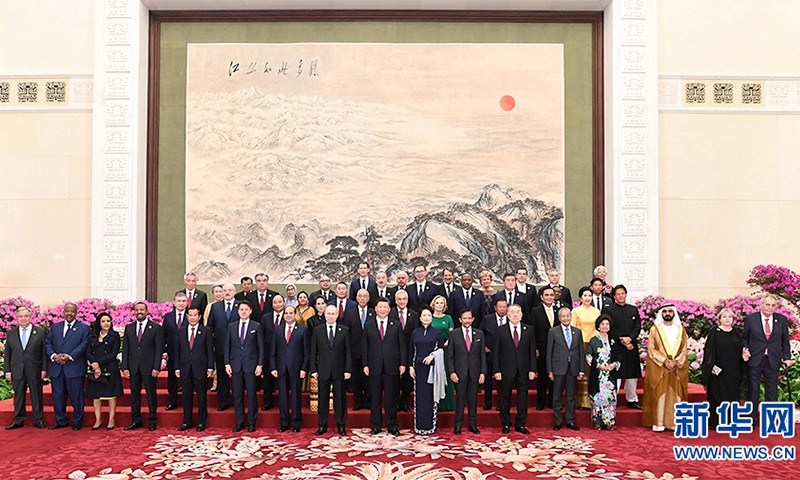 There were more than 110 countries at the forum, among them heads of state or government of 36 countries. Here is the list:
Austria: Chancellor Sebastian Kurz

Azerbaijan: President Ilham Aliyev

Belarus: President Alexander Lukashenko

Brunei: Sultan Haji Hassanal Bolkiah

Cambodia: Prime Minister Hun Sen

Chile: President Sebastian Pinera

Cyprus: President Nicos Anastasiades

Czech Republic: President Miloš Zeman

Djibouti: President Ismail Omar Guelleh

Egypt: President Abdel Fattah al-Sisi

Ethiopia: Prime Minister Abiy Ahmed

Greece: Prime Minister Alexis Tsipras

Hungary: Prime Minister Viktor Orban

Italy: Prime Minister Giuseppe Conte

Kazakhstan: Former President Nursultan Nazarbayev

Kenya: President Uhuru Kenyatta

Kyrgyzstan: President Sooronbay Jeenbekov

Laos: President Bounnhang Vorachit

Malaysia: Prime Minister Mahathir Mohamad

Mongolia: President Khaltmaa Battulga

Mozambique:President Filipe Nyusi

Myanmar: State Counselor Aung San Suu Kyi

Nepal: President Bidya Devi Bhandar

Pakistan: Prime Minister Imran Khan

Papua New Guinea: Prime Minister Peter O'Neill

The Philippines: President Rodrigo Duterte

Portugal: President Marcelo Rebelo de Sousa

Russia: President Vladimir Putin,

Serbia: President Aleksandar Vucic

Singapore: Prime Minister Lee Hsien Loong

Switzerland: President President Ueli Maurer

Tajikistan: President Emomali Rahmon

Thailand: Prime Minister Prayut Chan-o-cha

The United Arab Emirates: Prime Minister Sheikh Mohammed bin Rashid

Uzbekistan: President Shavkat Mirziyoyev

Vietnam: Prime Minister Nguyen Xuan Phuc
It is noteworthy that among the European countries, Austria, Belarus, Czech Republic, Greece, Hungary, Italy, Portugal, Russia, Serbia, and Switzerland were represented by the topmost leadership.
* * *
As far as some concerns about BRI, mostly projected by the western media are concerned, the former secretary general of SCO (Shanghai Cooperation Organization), in an interview with the Global Times, gave short and to the point explanations:
BRI won't cause conflicts between China and Russia in Central Asia
Xie Wenting and Bai Yunyi
Global Times, 26 April 2019
China and Russia don't "compete" in Central Asia, and the two countries complement each other to bring the region prosperity, Rashid Alimov, former Shanghai Cooperation Organization (SCO) secretary general, told the Global Times.
Both countries cooperate to maintain the security and stability in the region and make efforts to fight against terrorism and extremism as well as drug trafficking, said Alimov, Doctor of Political Science and a senior fellow with Chinese think tank Taihe Institute.
Alimov dismissed the concern that China's presence in Central Asia with the Belt and Road Initiative (BRI) may lead to conflicts with Russia, stressing that the two countries cooperate both on a bilateral and a multilateral basis.
"China and Russia are equally important and strategic partners for Central Asian countries," he said.
Despite widespread support for the BRI, some Western countries, including the US still harbor different sentiments and skepticism about the initiative.
Alimov told the Global Times that these countries don't make assessments objectively toward the BRI and the cooperation under the BRI is actually in the interests of all parties.
"Another thing is obvious: China will not force anyone to join the BRI. This is the sovereign right of every country," he said.
He added that for any initiative, it won't only have supporters, but also critics.
India is the only SCO country that hasn't been directly involved in the BRI, as it claimed the BRI could harm its sovereignty.
Alimov didn't respond directly to the question on what China can do to disperse excessive concerns over the BRI from India, who joined the SCO in 2017.
But he noted to the Global Times that the BRI is open in nature and is not accompanied by any pressure or coercion. "Practical results are already visible. They are felt by participating countries along the Belt and Road," he said.
Mr. Alimov also dismissed the "debt trap" accusations from some countries. He mentioned that banks including the Asian Infrastructure Investment Bank (AIIB), EXIM Bank and China Development Bank select BRI projects for financing very carefully and conduct a thorough examination beforehand.
"For this reason, it will be difficult for the loan recipients to get into the 'debt trap,'" he said.
As the Belt and Road passes through some countries and regions that are haunted by terrorism, joint efforts to counter terrorism are deemed important.
Alimov said that China has made a great contribution to countering terrorism and extremism, and is actively cooperating with international and regional organizations, including the UN and SCO.
Founded in 2001, the SCO was initially established to fight terrorism, separatism and extremism.
"China provides a variety of support to those countries that have become targets of terrorist attacks. It shares its own experience, provides equipment and grants for the training of professional personnel," he said, adding that only by combining international efforts can terrorism be fully eradicated.
http://www.globaltimes.cn/content/1147606.shtml
* * *
B&R Chronology
https://eng.yidaiyilu.gov.cn/qwyw/rdxw/87421.htm
Basic Knowledge on the Belt and Road
https://eng.yidaiyilu.gov.cn/qwyw/rdxw/87423.htm
Third-party model to open more paths on Belt and Road route
https://eng.yidaiyilu.gov.cn/qwyw/rdxw/86108.htm
The Belt and Road Initiative Progress, Contributions and Prospects
https://eng.yidaiyilu.gov.cn/zchj/qwfb/86739.htm /// nCa, 29 April 2019