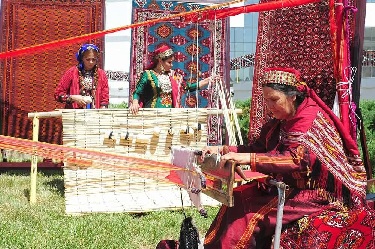 The International Trade Center, with the support of the European Union, helps small craft enterprises from five Central Asian countries to sell their products through the NOVICA e-commerce marketplace.
Founded in 1999 in Los Angeles with the goal of empowering artisans around the world and preserving endangered cultural arts Novica.com has become the leading online trading platform in the world. The key partners of NOVICA are UNICEF, the International Trade Center, USAID, various NGOs.
To date, artisans from all over the world have made a profit of more than $ 128 million through the NOVICA portal.
NOVICA recently launched the Silk Road region Artisan Empowerment Hub and Artisans Connect online store in Central Asia to support small businesses to sell handmade goods online, as part of the Ready4Trade Central Asia project funded by the European Union and implemented by the International Trade Centre (ITC), according to the ITC.
Access to international markets varies around the world, and online platforms play a key role in strengthening the e-commerce ecosystem. The electronic marketplace will provide craftsmen from Kazakhstan, Kyrgyzstan, Tajikistan, Turkmenistan and Uzbekistan with access to new sales channels aimed at international customers.
"The European Union's Ready4Trade Central Asia project is a project of cooperation. We believe that Central Asia will be stronger together, too. The Ready4Trade project supports e-commerce for small businesses in Central Asia. Using NOVICA, Artisan Empowerment Hub businesses of Central Asia will be stronger, better visible internationally and more resilient," said EU Ambassador in Kazakhstan, Kestutis Jankauskas.
"It's not only about getting online, but having the skills to attract customers, to package and ship goods, and to engage with customers. With the launch of this Hub and e-commerce store with NOVICA, small firms will have the practical support they need to sell more handmade goods to customers worldwide, quickly and smoothly," said Pamela Coke-Hamilton, ITC Executive Director.
Onboarding businesses, making sales
To start, the Artisan Empowerment Center will select 40 artisans from the Ready4Trade project, register them on NOVICA's online channels and deal with all aspects of the showcasing, sale, packaging and express delivery of their goods.
The center provides access to the NOVICA store and other platforms that are not directly accessible to artisans, for example, NOVICA stores on Amazon, Overstock and Wayfair.
"The rich arts and handmade jewelry traditions of Central Asia will impassion millions of fairtrade customers," said Roberto Milk, co-founder and CEO of NOVICA, adding, "We are working hard to help preserve and strengthen the region's incredible decorative traditions, in which ornate amulets and talismans still rule – and where the jewelry arts are passed down from generation to generation."
The Artisans Connect e-commerce store presents products from companies that have been trained in e-commerce skills and individual trainings as part of a four-year project. In Kazakhstan, Kyrgyzstan and Uzbekistan, the project supported 34 trainers and 155 artisans and enterprises (of which 98 are headed by women). National trainers trained at the ITC conducted more than 1,200 individual sessions in 28 regions of the three countries.
In addition, 50 artisans and entrepreneurs in Tajikistan and Turkmenistan received customized support to adapt to the e-commerce systems of these countries.
As of 2022, sales through online channels from Central Asia exceeded $2.5 million.
The global handcrafts sector has significant growth potential: in 2022, the market was worth $752.2 billion.
ITC and NOVICA first signed a memorandum of understanding in 2021 and have been working closely ever since to expand opportunities for artisans around the world. ///nCa, 26 May 2023