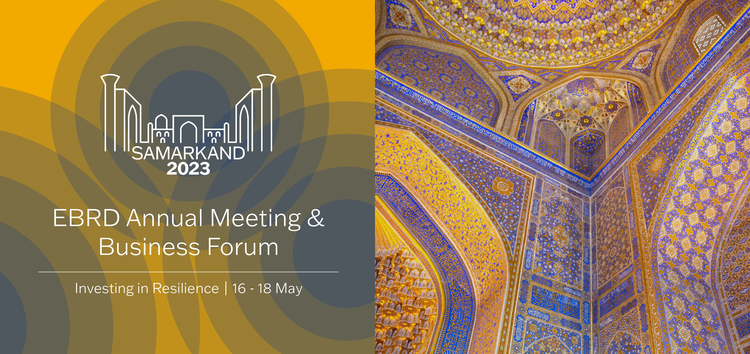 On May 16-18, the 32nd Annual Meeting of the Board of Governors of the European Bank for Reconstruction and Development (EBRD) will be held in Samarkand, under the general main theme – "Investing in Resilience".
The event is expected to be attended by more than 2,000 guests from 73 countries, including representatives of foreign governments, heads of multinational corporations, international financial institutions and banks, experts in the field of economics, investment, finance and technology, as well as world media.
The central theme of the event will be investing in ensuring the sustainability of the economy. During the meeting, panel discussions are planned on the development of measures to overcome the challenges faced by the Bank's member countries.
The event will also provide the EBRD with an opportunity to analyze its achievements over the past year and make plans for the future.
One of the main events of the meeting will be the session on "Investment Prospects of Uzbekistan". It will discuss the expected growth rates of the country's economy and opportunities for attracting investment.
The agenda of the three days of the event also includes a number of discussion panel sessions with experts on various topics. Sessions will be devoted to both regions and individual countries, including:
international trade;

energy security, renewable energy sources;

the importance of small and medium-sized businesses for the economy;

digitalization in emerging markets;

EBRD's Green Cities Program;

"Regional Economic Prospects" — the main macroeconomic study of the EBRD, etc.
A business forum with the participation of representatives of international business circles is planned to be held on the sidelines of the meeting. It will include expert discussions on the macroeconomic situation, the role of the private sector and the state in the development of renewable energy sources, interregional ties, economic integration, food security, digitalization and other issues.
For reference: Uzbekistan became a member of the EBRD on April 30, 1992. The country owns 4,200 shares of the Bank for a total amount of 44.1 million euros. The Bank's representative office was opened in Tashkent in May 1993 with offices in Andijan established in October 2019 and in Urgench in June 2021. It is planned to open an office in Karshi.
Since the beginning of its activity in Uzbekistan, the Bank has approved the financing of 100 projects and programs in various sectors of the economy in the amount of more than 3.4 billion euros (7 projects worth 893.0 million euros are under development). Uzbekistan is the largest recipient of EBRD investments among the CIS countries.
The EBRD's projects focus on the development of small businesses, the financial sector, transport, infrastructure and energy. Meanwhile, the main amount of funds allocated by the Bank falls on direct investments.
Holding an event of this level is expected to have a positive impact on improving the international image of Uzbekistan in global investment circles, and provide an opportunity for representatives of the business community to get thoroughly acquainted with the economic, investment and industrial potential as well as the rich culture of Uzbekistan. ///nCa, 15 May 2023