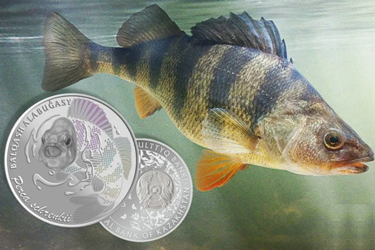 The National Bank of Kazakhstan has issued a set of collection coins depicting BALQASH ALABUGASY (Balkhash perch).
The coins are 3D and the ultra-high relief technology has been used for their production.
According to the information available at the website of the National Bank of Kazakhstan, these are the only 3D coins in the world and only Kazakhstan has the capacity to mint such coins.
On the issue of collection coins BALQASH ALABUǴASY
https://nationalbank.kz/ru/news/press-relizy/14900
In the prototype, the perch head was 17mm higher than the plane of the coin. For artistic effect, the fish axis was given 10-degree vertical inclination during the production run.
The waves on the coin involved the development of a unique stamping washer and embossing tool.
The coins were unveiled on 3 February 2023 at the World Money Fair / World Monetary Conference in Berlin.
This set of collection coins is from the series 'Flora and Fauna of Kazakhstan.'
The BALQASH ALABUǴASY (Balkhash Perch), as the name suggests, is found in the Lake Balkhash in Kazakhstan. This is the only natural lake in the world with two parts, one salty and the other fresh.
Balkhash perch is one of the endemic fish living in the lake. It separated from its closest relative, the common river perch, about 5-7 million years ago. It is included in the Red Book of Kazakhstan.
Collection coins BALQASH ALABUǴASY are made in two types:
1) from silver 925/1000 using 3D technology and ultra-high relief, weighing 100 grams, 50 mm in diameter, denomination of 1,000 tenge, circulation of 500 pieces;
2) made of cupronickel alloy MN 25, weighing 15 grams, diameter 33 mm, "proof-like" workmanship, face value 200 tenge, circulation 20,000 pieces. /// nCa, 7 February 2023 [Pictures credit National Bank of Kazakhstan, QazMonitor]