The Permanent Representative of Turkmenistan to UN Aksoltan Atayeva spoke at the general debates of 77th UN General Assembly session. Food and energy security, transport and climate changes were highlighted in the speech of the Turkmen Ambassador.
Describing dialogue as the only acceptable way to resolve conflicts and differences, she called for the restoration of economic and humanitarian ties.  There is no alternative to the United Nations, Atayeva asserted, cautioning that the global security architecture is being seriously tested.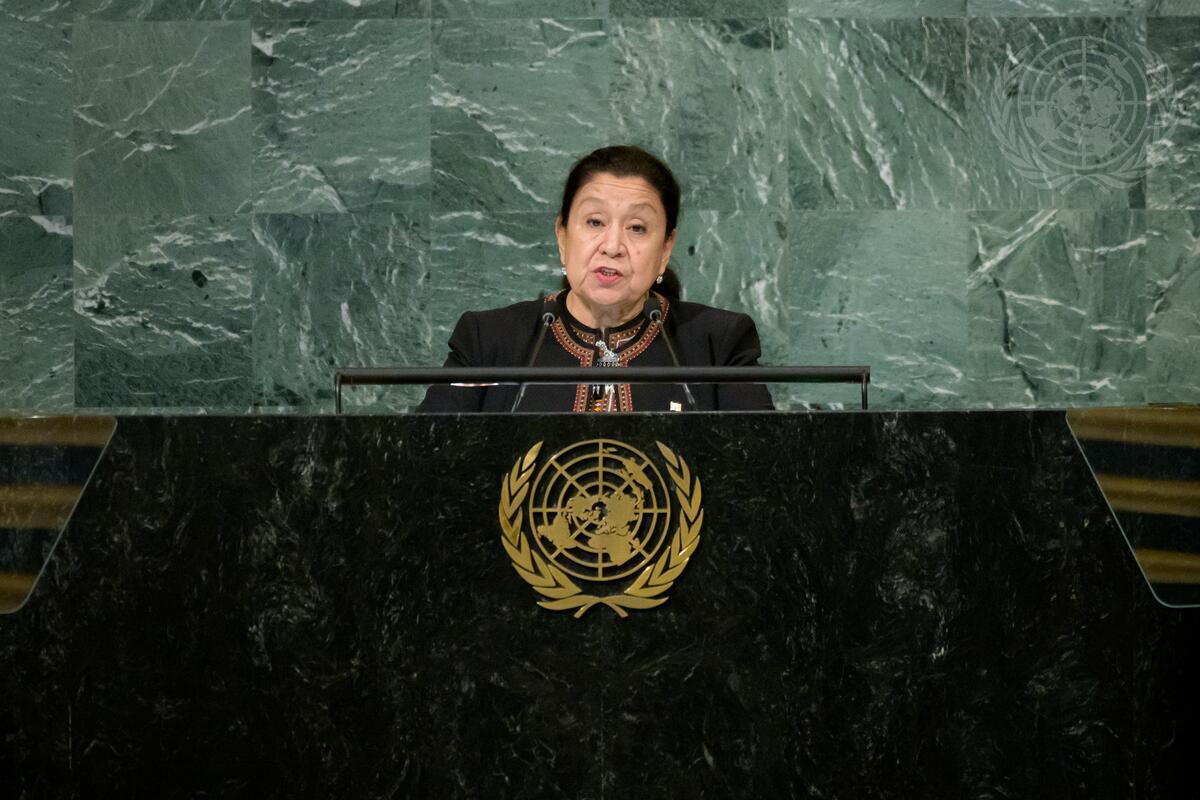 Pointing to complex processes that hinder multilateral cooperation, she stressed the need to strengthen existing platforms for dialogue and consider establishing new ones for intergovernmental negotiations on pressing global issues.
 To further promote the philosophy of trust-based dialogue in international relations, Turkmen delegation intends to propose a General Assembly draft resolution — entitled "Dialogue:  Guarantee for Peace" — whose adoption would serve as a commitment by all Member States to peaceful negotiation-based methods of resolving conflicts, no matter how difficult. 
Voicing concern over the current threats to global food security, she urged the international community to ensure global food market stability is sustained and to jointly search for solutions to the complex problem of providing food to the most vulnerable countries.  To this end, she proposed holding an international forum on food security in Turkmenistan.
Regarding the global dialogue on the issue of energy security, Aksoltan Atayeva stressed the need to continue working on the implementation of the earlier initiatives by Turkmenistan on the establishment of an open-ended International Expert Group to develop modern UN international legal instruments for regulating sustainable and reliable energy transit.
Turning to the multilateral transport cooperation, she underlined that Turkmenistan intends to summarize the outcomes of the Global Conferences on Sustainable Transport held in 2016 and 2021, other high-level transport forums, including the Ministerial Transport Conference for Landlocked Countries organized in Turkmenistan on 15-16 August this year, and to prepare proposals for the development of the draft concept of the UN Special Interregional Program for the Development of Transport.
In Central Asia, climate change and water issues are of crucial importance, she underscored, calling for the establishment of a regional centre for climate technology for Central Asian States.  In this context, Atayeva reiterated Turkmenistan's commitment to reducing greenhouse gas emissions. 
The impacts of the pandemic call for coordinated efforts, she said, highlighting the importance of combatting COVID‑19 infection and creating tools for medical diplomacy.
***
Since launching the UN GA 77th session on 20 September, the Assembly heard from 76 Heads of State, 50 Heads of Government, 4 Vice-Presidents, 5 Deputy Prime Ministers, 48 ministers and 7 heads of delegation. Their speeches showed the growing awareness that the humanity goes through the times of paradigm shifts, demanding more actions to address complex challenges such as political tensions, pandemic, human rights, food crisis, climate change. ///nCa, 28 September 2022