AD Ports Group, owner and operator of a dozen of ports and terminals in the UAE, will participate in the implementation of a major infrastructure project in one of the Caspian ports of Kazakhstan, which means further consolidation of the Emirati business in Central Asia.
The Kazakhstani company Semurg Invest and AD Ports Group inked a deal Tuesday (15 Aug) for cooperation on the construction of a grain terminal and a multifunctional sea terminal "Sarzha" in the port of Kuryk, the Ministry of Industry and Infrastructure Development of the Republic of Kazakhstan says.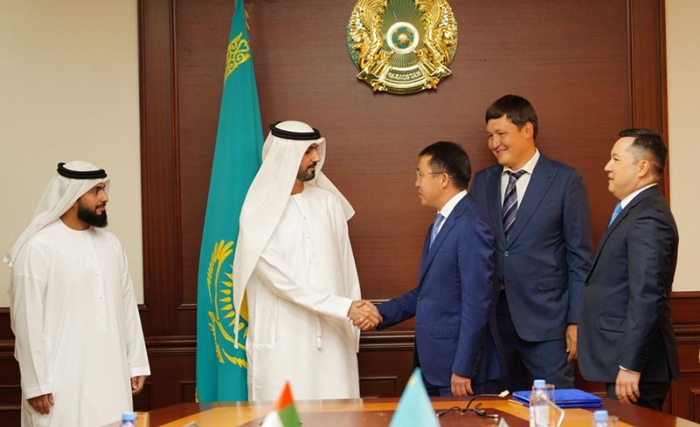 SEMURG INVEST LLP is the owner and developer of the multifunctional Sarzha sea terminal in the port of Kuryk.
The complex will include several terminals – a grain terminal, a universal cargo terminal, a bulk cargo terminal, a general cargo terminal, as well as a transport and logistics center. The total planned capacity of the project is 10 million tons per year.
The project is a part of the Concept of development of transport and logistics potential of Kazakhstan until 2030 and plays an important role in the development of the Middle Corridor and diversification of export routes.
A temporary storage warehouse is already operating on the territory of the Sarzha terminal, two berths, access railway tracks have been built, the first phase of the grain terminal and the general cargo terminal have been completed.
According to Nurzhan Marabayev, CEO of Semurg Invest, "transshipment of the first cargoes is expected soon. The full implementation of the project will increase the capacity of the Trans-Caspian International Transport Route by 10 million tons per year."
Regional Director of AD Ports Group Abdulaziz Zayed Al-Shamsi noted that the Emirati side is interested in cooperation with the port of Kuryk on the implementation of the most important transport and logical initiative for the development of export routes in Central Asia.
The UAE is an important investment partner of Kazakhstan
Kazakhstan and the United Arab Emirates are strengthening trade and investment relations.
In Q1 2023, Kazakhstan has attracted US$ 209.7 million of foreign direct investment from UAE, posting 2.5 times growth year-on-year basis (US$ 83.1 million – in Q1 2023).
In 2025-2023, the UAE invested US$ 3.38 billion in Kazakhstan.
Currently, there are 250 companies with UAE capital participation in Kazakhstan. ///nCa, 17 August 2023
#Kazakhstan, #UAE, #Port_infrastructure, #Sarzha_terminal, #Trans-Caspian_International_Transport_Route, #Middle_Corridor, #Foreign_direct_investment, #Central_Asia, #Port_Kuryk