A local shepherd in the mountainous area of Tajikistan has found inscription on a rock that dates back to Kushan era in the first century (80-90 CE). This was reported by AKIpress and Greekreporter.
The engraving is in Greek and it reads: ΕΙΔΙΗΛΟ Υ…ϸΑΟΝΑΝϸΑΕ ΟΟΗ-ΜΟ ΤΑΚ-ΤΟΕ.
According to Nicholas Sims-Williams, a leading specialist in the study of the Bactrian language, it means "This is the…of the king of kings, Vima Takto."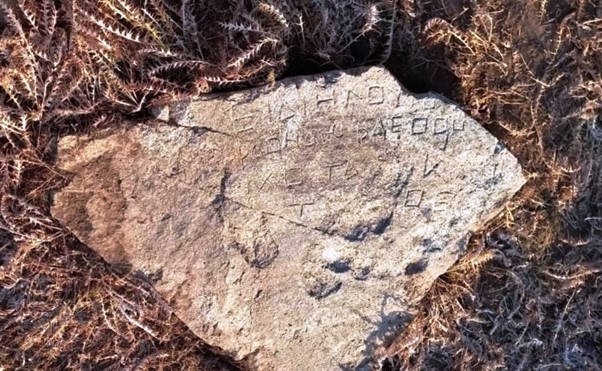 The local shepherd Sanginov Khaitali, made the find on the northernmost part of the gorge near the right tributary of the Almosi River in a place known among the local population as Khoja Mafraj.
Vima Takto was a Kushan emperor, who reigned 80-90 CE.
Vima Takto's empire covered northwestern India and Bactria towards China, where Kushan presence has been asserted in the Tarim Basin. During his reign, Kushan embassies were also sent to the Eastern Han imperial court.
CE stands for "Common Era." It refers to the same years as AD does, just in a more secular way. The year 2022 CE is the same year as 2022 AD. The Gregorian calendar, which is the dating system we use to measure years today, was created by a pope of the Catholic Church. /// nCa, 4 January 2023