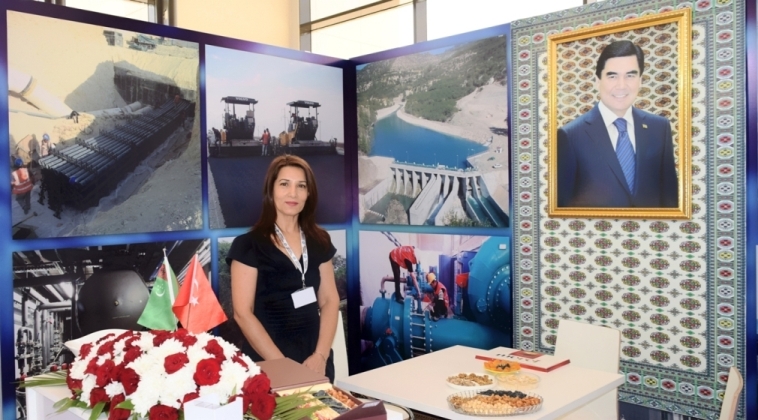 Ashgabat, 14 September 2015 (nCa) — Eser Holding, a Turkish multinational, is using the latest methods and technologies to build a segment of the Ashgabat-Turkmenbashy motorway in Turkmenistan.
The company is building the 200-km, Serdar-Bereket-Kumdag-Balkanabat portion of the main motorway of Turkmenistan. It is a 2×3 (6 lane) road, of which one side was completed and opened for traffic in December 2014.
The project cost is US $ 600 million.
This road segment is important for several reasons:
After the opening of the Kazakhstan-Turkmenistan-Iran railway line in December 2014, the Bereket railway station has gained the significance as a crossing point of this trans-national railway line and the internal railway network of Turkmenistan. This road will be vital in efficient management of multimodal cargo movement.
On completion of the modernization and upgrading of the Turkmenbashy Port, the road cargo destined for distribution inside Turkmenistan and transit to Afghanistan, Uzbekistan, Tajikistan and China will pass through this road.
The oil products from Balkanabat will be transport to Bereket and Turkmenbashy through this road.
In view of the expected heavy flow of traffic, Eser Holding (http://www.eser.com/en) is using the latest methods and technologies for the construction of this road. The use of the geotextiles in particular and geosynthetics in general is a key part of this process.
In a conversation Sunday at the Eser Holding stall at the Turkmen Energy exhibition in Ashgabat, Nina Ibragimova explained the process of the road construction being used by Eser.
Geotextiles, spread over the compacted subsoil of 50-150 cm thickness, provide filtration and separation in road constructions, preventing the migration and mingling of materials, yet allowing for free movement of water.
On top of that, five layers of various grades of crush and gravel are put down one over the other, with the upper three layers treated in precise mix of asphalt. The total thickness of these layers is 70 cm.
This unique method increases the longevity of the road, provides better traction to heavy vehicles without reducing the life span of the tyres, affords even distribution of stress in static and dynamic conditions, and reduces the construction cost.
This method is also in conformity with the recommended parameters of green technologies.
Eser Holding has also built the VIP restaurant Keyik at Goekdere, a resort area at the outskirts of Ashgabat.
Eser Holdings is active in the fields of Construction, Consulting Engineering, Power, Real Estate, Mechanical Industry and Trading.
In addition to its home base in Turkey, Eser Holding has done a number of projects in Saudi Arabia, Nigeria, Afghanistan, Azerbaijan, Cameron and Libya.
In the ENR 2015 Top 250 list, Eser ranks 176.