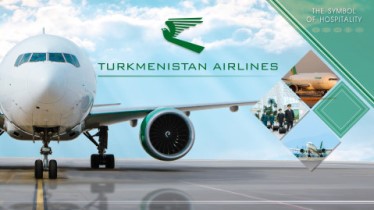 According to news stories of the media house Turkmen Portal, the frequency of flights of the Turkmenistan Airlines is returning to the pre-Covid level.
The prices of one-way tickets to several destinations have also been announced.
From March 19, the Turkmen airline will resume flights to Beijing Capital International Airport (PEK), where flights will be operated twice a week at the initial stage.
From January 17, 2023 , all passengers traveling to China must provide a paper (printed) PCR test result in the official language of the country of departure or in English.
From March 20, Turkmenistan Airlines will again start operating flights to London (Stansted Airport) with a frequency of once a week.
From March 25, the airline plans to operate flights to Istanbul on daily basis. The Turkish Airlines will also fly daily from Istanbul to Ashgabat starting March 24.
From the end of March 2023, Turkmenistan Airlines will reduce the number of flights on the Ashgabat-Kazan route to once per week.
A discount of 2.5% is available on the online purchase of tickets.
Rates of one-way tickets as of February 22, 2023
Ashgabat (ASB) — Dubai (DXB): 3892 manat 60 tenge
Ashgabat (ASB) — Frankfurt am Main (FRA): 8023 manat 80 tenge
Ashgabat (ASB) — Istanbul (IST): 4877 manat 50 tenge
Ashgabat (ASB) — Moscow (DME): 4910 manat 80 tenge
Ashgabat (ASB) — Kazan (KZN): 4886 manat 30 tenge
Kazan (KZN) — Ashgabat (ASB): 4823 manat 30 tenge
Moscow (DME) — Ashgabat (ASB): 4876 manat 90 tenge
Ashgabat (ASB) – Beijing Capital International Airport (PEK): 9280 manat
Ashgabat (ASB) – London (Stansted Airport): 8926 manat
Contact details of Turkmenistan Airlines
Ashgabat, st. Oguzhana, 211
Telephone: (+99312) 39-17-17, 39-17-18, 39-17-19, 39-17-20, fax: 95-73-91
Mail: gavs@turkmenarlines.com
Web address: https://turkmenistanairlines.tm/
/// nCa, 24 February 2023