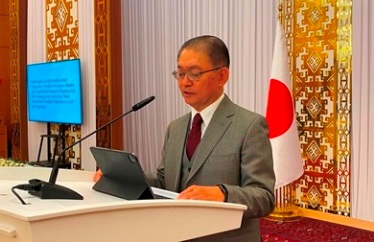 Ambassador YAMAMOTO Hiroyuki of Japan hosted a reception in Ashgabat on 17 February 2023 to mark the birthday of His Majesty the Emperor.
The Turkmen government was represented by the deputy ministers of foreign affairs Vepa Hajiyev and Berdyniyaz Matiyev.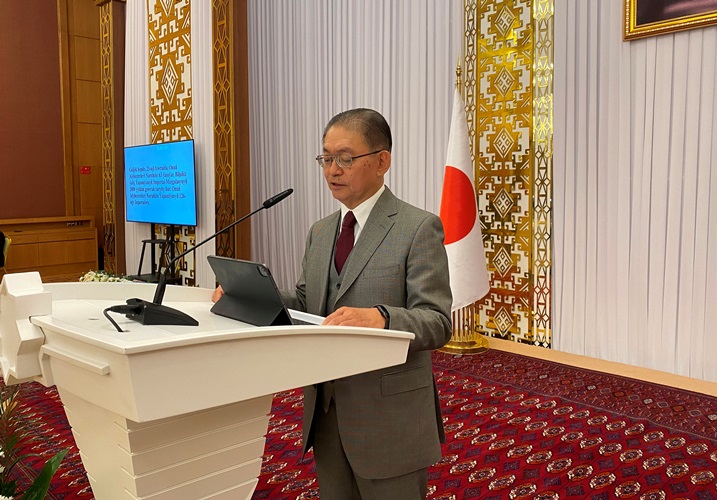 Here is the speech of the ambassador on the occasion:
Ambassador's Remarks on the National Day Reception to mark the Birthday of His Majesty the Emperor of Japan 
His Excellency Deputy Minister for Foreign Affairs of Turkmenistan Vepa HAJIYEV, Excellencies, Distinguished guests,
Good evening!
Let me express my sincerest gratitude for attending our national day reception to celebrate the birthday of His Majesty the Emperor of Japan.  
His Majesty Naruhito will be 63 years old next week on February 23. As you may know, the Japanese Imperial Family has a long history over 2000 years. His Majesty Naruhito is the 126th Emperor of Japan.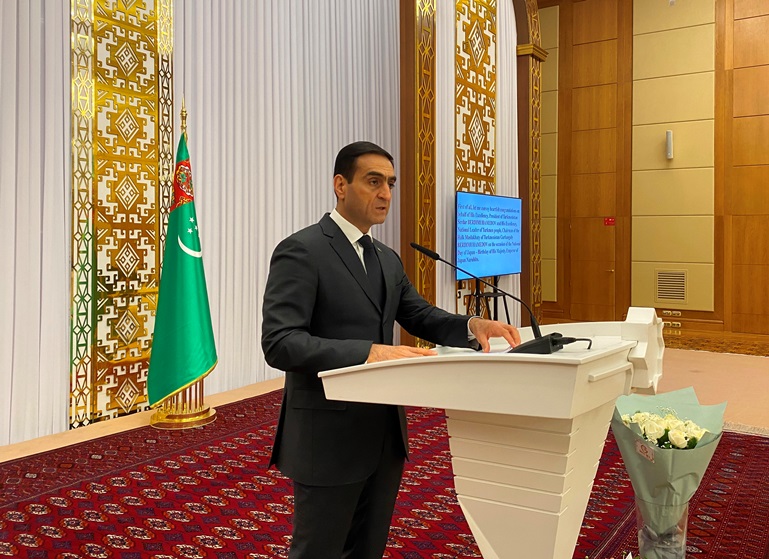 Distinguished guests, 
Last year, we organized many cultural events to commemorate the 30th anniversary of diplomatic relations between Japan and Turkmenistan. For example, the Japanese festival "Matsuri-30" and the Japanese drum concert "Wadaiko-30 Finale" were held in Turkmenabat, Mary and Ashgabat. I believe that many of you here joined us and enjoyed those cultural events.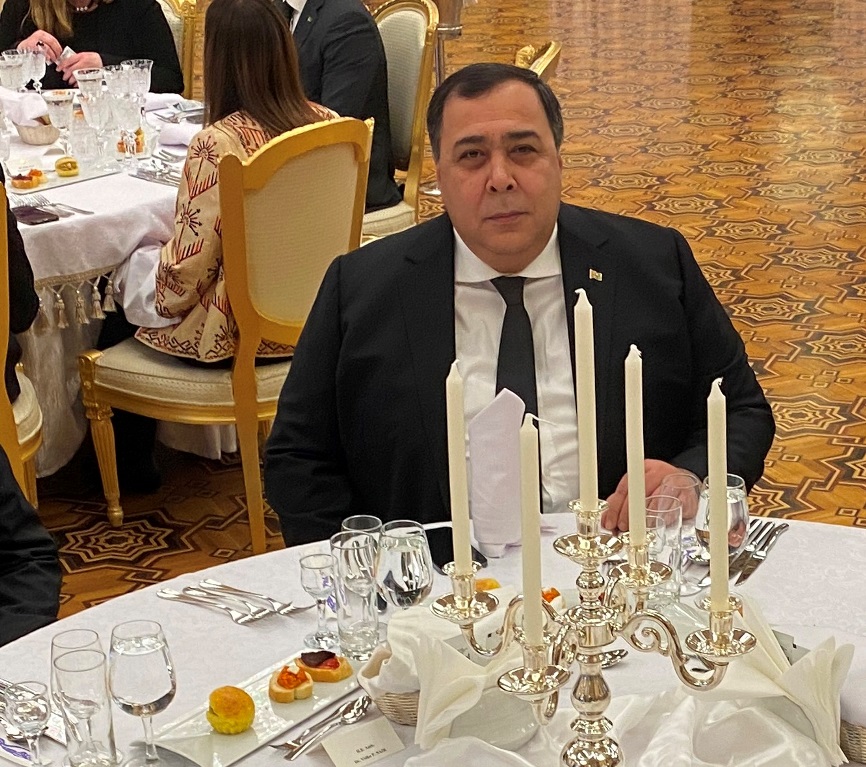 In the bilateral political relations, we had certain developments last year. In April, Prime Minister KISHIDA had a telephone talk with President Serdar BERDYMUHAMEDOV after his inauguration. In September, Chairman of the People's Council of Turkmenistan Gurbanguly BERDYMUHAMEDOV visited Japan to attend the state funeral of the former Prime Minister ABE. In December, Foreign Minister MEREDOV visited Japan and participated in the 9th Foreign Ministers' Meeting of the "Central Asia plus Japan" Dialogue in Tokyo.
In the economic sphere, the Meeting of Japan-Turkmenistan Economic Committee was held in December, and His Excellency MEREDOV discussed future developments of economic cooperation between our countries with his counterparts in Japan. Japanese Foreign Minister HAYASHI and His Excellency MEREDOV agreed to strengthen economic relations, including in the sector of decarbonisation. Many restrictions related to COVID 19 have been lifted since last year, and Japanese companies are resuming their activities here. Tonight, Itochu Corporation, Kawasaki Heavy Industries, Sumitomo Corporation, Mitsubishi Corporation and Toyota kindly organized the exhibitions in the lobby and I hope, many of you will visit them.

Japan and Turkmenistan have been connected by the Silk Road since the ancient times and share many cultural and linguistic similarities.
The Japanese language has become very popular in Turkmenistan. In 2015, only about 50 students were studying it. Today the number of students studying Japanese language in educational institutions here has reached more than 10,000. At the end of 2022, Japanese language specialists from Japan Foundation resumed their activities in Turkmenistan after two years and nine months absence.
Relations between Japan and Turkmenistan are steadily developing in a wide range of areas. Japan intends to further promote exchanges in the various fields, including within the framework of the "Central Asia plus Japan" Dialogue, and to continue cooperation with Turkmenistan for peace and stability in the Central Asian region.
Distinguished guests, 
Today, we will provide Japanese Cuisine, Udon and Mochi. Udon is a soup with Japanese noodle made of wheat flour. Mochi is a Japanese rice cake for dessert. Both are traditional foods in Japan, and I hope, you will like them.
Tonight, we would also like to show you demonstration of the Japanese martial arts, known as Budo. Budo has developed from mental and spiritual training, used by Samurai.
I sincerely hope that you will enjoy yourself in our national day reception. 
Thank you very much for your attention.  
/// nCa, 19 February 2023