Ravilya Kadyrova and Elvira Kadyrova
Ashgabat, 30 September 2016 (nCa) —The development of the capital's infrastructure today takes important place in Ashgabat improvement agenda. Ashgabat is a rapidly growing city, and the main task is to preserve the favorable conditions for urban life.
Drainage-communications tunnel, which is under construction in Ashgabat, aims to make a significant contribution to maintenance ecological well-being of the city, efficient management of water resources and ensuring sanitary-epidemiological safety.
The project of drainage-communications tunnel consists of a system of ground and underground facilities providing complex solution for life sustenance in Ashgabat and designed:
to lower the ground waters level in the most flooded part of the city,
to improve the reliability of city drain system, water supply, electricity, communications and improve conditions of their management,
to improve the efficiency of use of surface and groundwater by increasing the amount of water suitable for irrigation.
Construction of drain tunnels takes place in high seismic activity zone (up to 10 points on the Richter scale).
The complex of drain-communications tunnels includes:
Drain-communications tunnels 6 m diam., 16,500 m length,
Two output tunnels 3.5 m diam., 13,820 m length,
Ending tunnel 6.0×3.0 m constructed by open method,
Technological chambers: 22. Construction of chambers is performed by "wall in trench" method,
Dug wells: 72,
Treatment facilities with a capacity of 300 thousand m3/day.
To lower the ground waters level, in the most flooded part of the city, a ray drainage device would be installed using polymeric incredible filters in drains with 200 mm diam. Ray drainage boreholes will be made from the technological chambers by horizontal drilling equipment.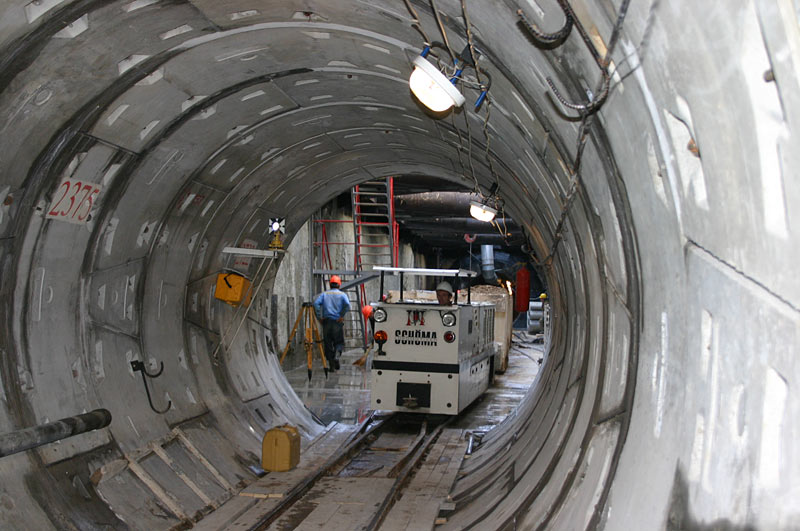 The project also envisages construction of rainwater collector, providing protection from storm water, as well as distribution transformer substation.
Currently, the construction of drainage-communications tunnel continues in the western part of Ashgabat. It is planned to dig about 5 kilometers of the tunnel with a diameter of 6 meters, to build 4 wells for receiving sewage, 8 radial water intakes.
According to the project, the engineering network, electrical, water and telecommunications will be placed at the upper side of the tunnel.
At present, groundwater lowering works are underway in the north-eastern part of Ashgabat. This level reduced by two meters.
The sewage treatment plant loops drainage-communications tunnel system.
Sewage treatment plants with a capacity of 300 thousand cubic meters per day is designed for the treatment of domestic waste water, which is collected in drainage-communications tunnel and by gravity flow to receiving chamber of the main pumping station.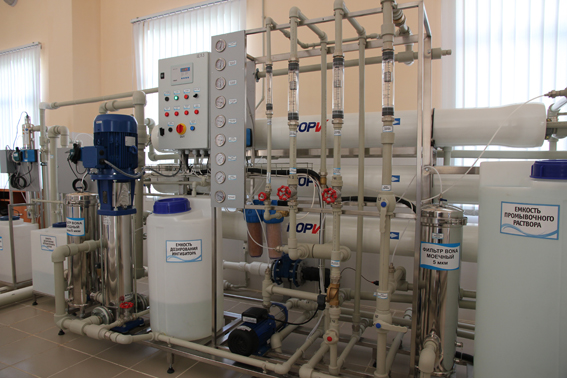 Full capacity of treatment plant is 3.5 cubic meters of treated water per second.
The water treatment plant provides biological, anaerobic and aerobic water treatment methods. Firstly, wastewater is cleaned from insoluble impurities, mineral and organic fine particles, and then water goes through anaerobic, anoxic and aerobic treatment, where fermentation process takes place.
After the wastewater has passed through mechanical and biological treatment, it is supplied to sedimentation tank, where clean water is separated from activated sludge. Treated and disinfected water can be used for irrigation and it is channeled to Altyn Asyr man-made lake. The dewatered sludge undergoes drying and compressed into briquettes, which are environmentally friendly fertilizer. So, the processing cycle is zero-discharge.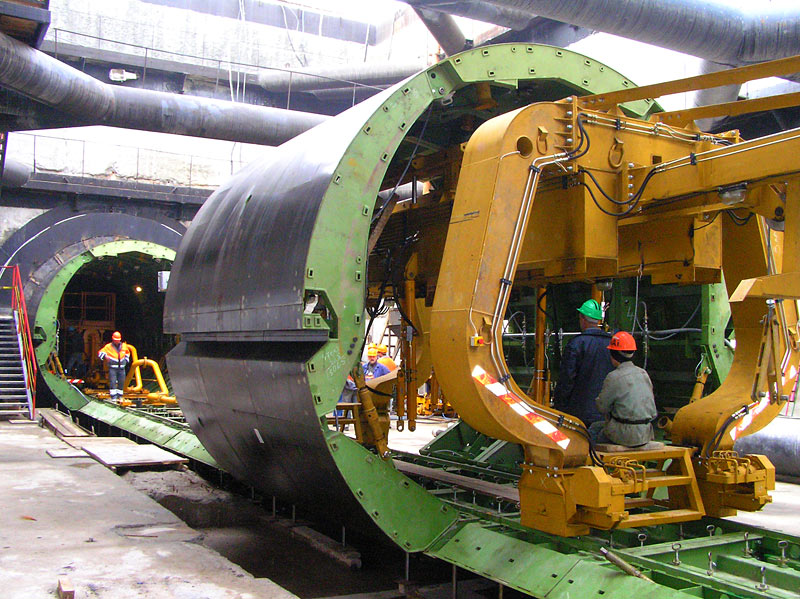 Construction of drainage-communications tunnel started by Ukrainian company "Interbudmontazh"  in February 2003.
Turkmenistan had repeatedly expressed to the contractor "Interbudmontazh" dissatisfaction due to non-fulfillment of contractual commitments, causing the failure of timely commissioning of tunnel.
In March 2012, governorate of Ashgabat had signed additional agreement with "Interbudmontazh" oncompletion the construction of drainage-communications tunnel in Ashgabat.
In 2015, the first and second phases of drainage-communications tunnel had been completed. In the northern part of Ashgabat near 3.8-kilometers lengthy collector-drainage tunnel by 6 meters in diameter, wastewater treatment plants, electric substation, rainwater collectors by length of over 2.1 kilometers and other facilities had been built.
The initial cost of the project had been estimated at $ 358 million dollars. However, due to the global price escalation and global market fluctuations, the cost must have gone up though it is not known to the media.
Reliable sources told nCa that "Interbudmontazh" remains the general contractor of the project. The expected date of completion of project is December 2016.