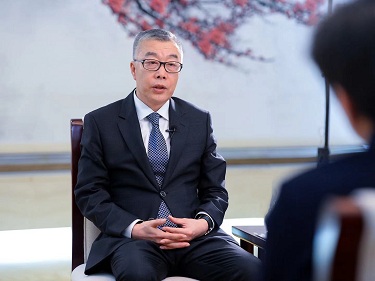 Qian Naicheng, Ambassador of China to Turkmenistan
It is not in vain that our people say: "A person reaches maturity at thirty years old." The maturity of 30 years of relations and cooperation between China and the states of Central Asia is manifested in deep mutual trust, equality and mutual benefit.
For 30 years we have been building trusting and good-neighbourly relations at the will of the times. In the spirit of mutual understanding and mutual compliance, the border issues remaining from history have been finally settled, the common border with a length of more than 3,300 kilometers has turned into bonds of friendship, trust and cooperation.
For 30 years, we have always stood by each other on the road to common development. In the spirit of joint consultations, joint construction and joint use, our cooperation within the framework of the One Belt, One Road initiative is fruitfully carried out.
For 30 years we have been linked by blood interests and common security. We conscientiously implement the new concept of indivisible, comprehensive, joint and sustainable security, jointly fight against the "three forces of evil", transnational organized crime, drug trafficking, categorically do not allow attempts to interfere from outside in internal affairs and provocation of "color revolutions", effectively protect common security interests, peace and stability in the region as a whole.
For 30 years, we have stood shoulder to shoulder on guard for justice. Standing together for multilateralism, we resolutely support each other in matters affecting vital interests, stand in solidarity at a critical moment, thereby protecting our legitimate rights and strategic interests, promoting the democratization of international relations and the formation of a more just and rational world order.
As for the secret of the success of thirty years of cooperation between our states, I would name the principles of mutual respect, good neighborliness, mutual assistance and mutual benefit. These four principles are not only an invaluable experience and common heritage, but also a political guarantor of the dynamic development of our relations and a source of strength in building friendly mutual ties.
Time flows; the day is replaced by a new one – year after year. Regardless of the changeable international situation and the level of development of China, we have been and remain a good neighbor, reliable partner, close friend and brother of the Central Asian states, whom you can always trust and rely on. China firmly supports your national development path, your efforts to protect sovereignty, independence and territorial integrity, the cause of national development, unity and rejuvenation, and the growing role of your countries in the international arena.
Strengthen the bonds of good neighborliness and friendship. Good-neighbourliness and friendship lie at the foundation of our relations. Adhering to the concept of benevolence, sincerity, mutual benefit and tolerance, we will continue to expand contacts at the highest and high levels, and intensify strategic coordination. It is important to play the role of the China-CA Foreign Ministers Meeting and other dialogue mechanisms, strengthen solidarity and mutual trust, and deepen mutually beneficial cooperation for common development and prosperity.
We create high quality cooperation belt. We are ready to open wide access to high-quality goods and agricultural products of Central Asia to the huge domestic market of China, continue the successful practice of holding a Forum of trade and economic cooperation between China and the countries of Central Asia, and strive to bring trade between China and Central Asia to 70 billion US dollars by 2030.
It is important to ensure the stable operation of oil and gas pipelines, accelerate the construction of the fourth line of the China-CA gas pipeline, expand energy cooperation along all production chains, and promote low-carbon transformation in the energy sector.
We create a reliable "shield" to strengthen peace. Peace is the common aspiration of the peoples of our region. To create a reliable security network, it is necessary to continue the joint fight against the "three forces of evil", deepen cooperation on border control, in the field of countering cyberterrorism and conducting a joint operation.
The COVID-19 epidemic has once again proved that the virus knows no borders, and humanity has a common destiny. China is ready to continue deliveries of vaccines and anti-epidemic cargo to the Central Asian states, expand joint production of vaccines and special medicines, and transfer technologies.
Afghanistan is a neighbor and partner of China and the Central Asian states. It is in the common interest of all our countries to ensure its peace, stability, development and prosperity. We support Afghanistan's efforts aimed at creating an open and inclusive political configuration through dialogue and consultations, we call on the international community to intensify humanitarian aid deliveries, and Afghanistan itself to dissociate itself from all terrorist organizations. We will be glad to see peace and harmony in Afghanistan's relations with neighboring countries.
We create a "big family" in the region with full regard for cultural diversity and close interaction. Civilization develops and flourishes exclusively through communication and interchange. It is expedient to establish multifaceted cultural and humanitarian ties, intensify work on opening cultural centers, dialogue on the protection of cultural heritage, as well as contacts between women, think tanks and the media.
We ensure peace and development on the planet. Recently, from the rostrum of the UN General Assembly, China announced the Global Development Initiative, focused on coordinating efforts to counter risks and challenges, promoting the UN 2030 Agenda for Sustainable Development. The president of China has announced the provision of 500 million US dollars in gratuitous assistance to the Central Asian states over the next 3 years for the implementation of socially significant projects and 5 thousand quotas for professional development of specialists in areas such as healthcare, poverty reduction and improving the welfare of rural residents, interconnectedness and information technology that will serve as an impetus for development.
Chinese wisdom says: "although the path is short, it cannot be overcome without moving forward; although the matter is insignificant, it cannot be completed by inaction. I urge everyone to make every effort to strengthen friendship and cooperation for the benefit of our peoples, to write a new bright chapter in the history of relations between China and the Central Asian states, and to open up the wonderful future of the Community of a Common Destiny for Humanity. /// nCa, 3 February 2022 (in cooperation with Embassy of China in Turkmenistan)