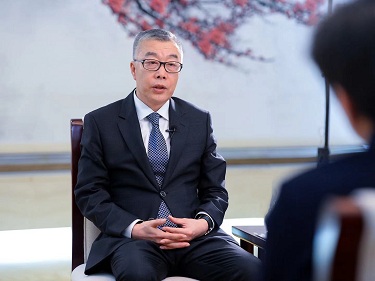 Qian Naicheng, Ambassador of China to Turkmenistan
China pursues a national defense policy that is in nature defensive. China does not pose a threat to any other country. No matter what stage of development it reaches, China will never seek hegemony.
We must accelerate the modernization of national defense and the armed forces. A strong country must have a strong military, as only then can it guarantee the security of the nation. At the point that it was engaged in violent struggle, the Party came to recognize the irrefutable truth that it must command the gun and build a people's military of its own. The people's military has made indelible achievements on behalf of the Party and the people. It is a strong pillar for safeguarding our socialist country and preserving national dignity, and a powerful force for protecting peace in our region and beyond.
We have strengthened military training and war preparedness, and undertaken major missions related to the protection of maritime rights, countering terrorism, maintaining stability, disaster rescue and relief, international peacekeeping, escort services in the Gulf of Aden, and humanitarian assistance. We have stepped up weapons and equipment development, and made major progress in enhancing military preparedness. The people's armed forces have taken solid strides on the path of building a powerful military with Chinese characteristics.
To carry out the reform, we must follow the Thought on Socialism with Chinese Characteristics for a New Era and the guiding principles of the 19th CPC National Congress, and observe the Party's philosophy on strengthening the military for the new era, so as to ensure the Party's absolute leadership over the military. The sole and fundamental criterion for judging the success of the reform is combat capability of the military, so we should keep our service personnel fully motivated. Through systematic planning, proactive design, innovative development, and overall reform, we can build a socialist military policy framework with Chinese characteristics. This framework will provide a strong guarantee for realizing the Party's goal of building a strong military in the new era and making the Chinese military world-class armed forces.
We need to restructure the policy systems for strengthening the military. We should design a better institutional framework for the military human resources systems. This includes establishing a career-officer system, improving the system for ensuring the wellbeing of and social security for military personnel, and improving the military honor system. We should reform in a coordinated way our policy systems concerning military training, equipment development, logistics, research, national defense mobilization, and civil-military integration.
We need to advance reform of the policy systems for military management and create new strategic management systems. We should refine the defense expenditure system and ensure coordinated allocation of military resources. We should adopt military laws and regulations in an integrated way and enhance their codification. Our policy systems for military management must be precise, effective, comprehensive, procedure-based and mandatory, so as to improve the operations of our military and promote quality development of our armed forces.
We should build a joint operations command system to improve our capacity in this regard. We should develop new combat forces and create new combat capabilities. We should enhance military training under combat conditions to enhance war preparedness.
On the journey ahead, we must fully implement the Party's thinking on strengthening the military in the new era as well as our military strategy for the new era, maintain the Party's absolute leadership over the people's armed forces, and follow a Chinese path to military development. We will take comprehensive measures to enhance the political loyalty of the armed forces, to strengthen them through reform and technology and the training of competent personnel, and to run them in accordance with the law. We will elevate our people's armed forces to world-class standards so that we are equipped with greater capacity and more reliable means for safeguarding our national sovereignty, security, and development interests. /// nCa, 28 July 2021 (in cooperation with Embassy of China in Turkmenistan)