Ashgabat, 24 November 2016 (nCa) — Connectivity is for everyone and everyone must contribute to connectivity. This is a simple law of life and no one understood it better than Dashrath Manjhi, the man who literally moved a mountain to create connectivity.
Dashrath Manjhi, also known as Mountain Man, was a poor Indian labourer born in 1934. He was from a village in the Gehlour hills. His wife, Phalguni Devi used to bring him lunch as he worked in the fields. One unfortunate afternoon she slipped as she walked uphill to bring lunch to Manjhi and got seriously injured.
She died because of her injuries because there was no quick way to carry her to a hospital.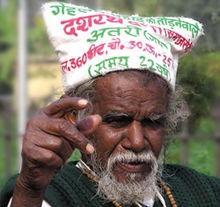 The same night Manjhi resolved to cut a path, actually a combo path-tunnel, through the mountain so that his village could have easy access to the medical attention that was available just on the other side of the mountain.
He had nothing but his will power and his hands; and of course a hammer and a chisel.
He kept relentlessly at the rocky mountain, day after day, for 22 years, yes, twenty-two years from 1960 to 1983. He was called lunatic but that only hardened his tenacity to defeat the mountain and institute connectivity for his village.
When he was done, having spent all of his youth and energy, the mountain had yielded a path-tunnel 110 meters in length, 7.7 meters deep in places and 9.1 meters wide.
This tunnel reduced the distance between the Atri and Wazirganj sectors of Gaya district from 55 to 15 kilometers.
On his death from cancer in 2007, he was given state funeral by the state of Bihar.
It was love that made him move the mountain but it was the rightly-sequenced sense of priorities that convinced him that cutting a path through the mountain would be a better tribute to his beloved wife than an ornate shrine in her memory.
This sense of priorities must kick in as the first global conference on sustainable transport takes place in Ashgabat, 26-27 November 2016.
Connectivity infrastructure must be near the top of the agenda of all the regional governments because connectivity is the locomotive pulling prosperity and stability.
Everyone, in whatever position they are, need to recognize that they are the basic stakeholders in the connectivity drives. All of us must be invested in connectivity development and all of us matter.